It's so hot out! And it's suppose to be even hotter tomorrow. I don't know if I'll survive.
I visited Bard College yesterday, it was so gorgeous! It makes me want to go there even more. I think I'm going to be visiting Ithaca this weekend, but idk.
So I decided to assemble a list of movies that I want to see. So if you guys know where I can find some of these, please point me in that direction. Thanksss :D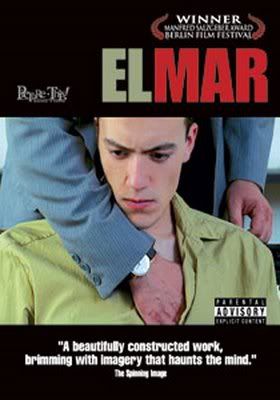 El MarDirected by:
Agustí Villaronga
Written by:
Antoni Aloy
Starring:
Roger Casamajor, Bruno Bergonzini, Antònia Torrens, Hernán González, Juli Mira
Synopsis:
Set against the backdrop of the Spanish Civil War and its aftermath, El Mar tells the story of three young friends, Tur, Ramallo, and Francisca, who witness a brutal killing when a classmate avenges his father's assassination upon another schoolmate, and then kills himself shortly thereafter. This secret will haunt Tur, Ramallo, and Francisca for the rest of their lives. Years later, the muscled, womanizing Ramallo reunites with his childhood friends when all three find themselves quarantined in a tuberculosis sanatorium. Ramallo, hiding a secret rent-boy past, bristles against the mandatory isolation. Tur, now thin and pale, leans on religious fanaticism to avoid acting on his sexual urges towards Ramallo. Francisca, now one of the nuns, helps ease the pain of the dying. Together again in this lonely outpost by the sea, they revisit their dark childhood and quickly become tormented by death, religion, and sex.
This movie is all the way at the top of my list. I've been looking for it for a couple months, but I've never been able to find it online. I've looked into buying it but it's always mad expensive.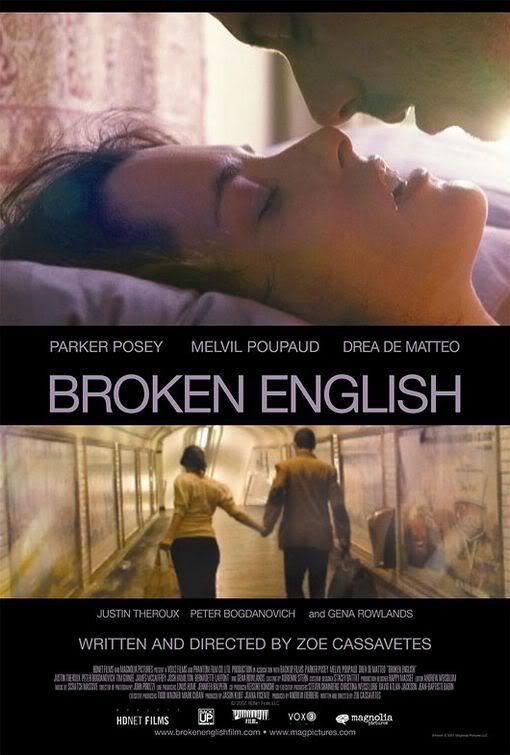 Broken EnglishDirected by:
Zoe R. Cassavetes
Written by:
Zoe R. Cassavetes
Starring:
Parker Posey, Drea de Matteo, Melvil Poupaud, Gena Rowlands
Synopsis:
Nora Wilder is freaking out. Everyone around her is in a relationship, is married, or has children. Nora is in her thirties, alone with job she's outgrown and a mother who constantly reminds her of it all. Not to mention her best friend Audrey's "perfect marriage". But after a series of disastrous dates, Nora unexpectedly meets Julien, a quirky Frenchman who opens her eyes to a lot more than love.
I've actually found this one online, but it's not the best quality :/ I adore Parker Posey and Melvil Poupaud.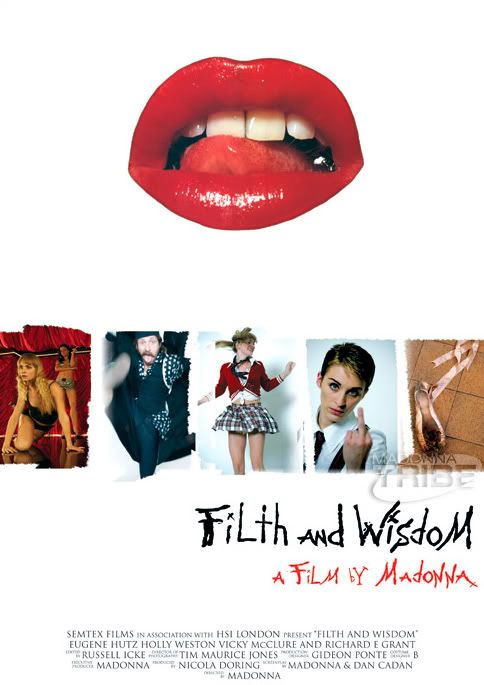 Filth and WisdomDirected by:
Madonna
Written by:
Madonna and Dan Cadan
Starring:
Eugene Hütz, Holly Weston, Vicky McClure, Richard E. Grant, Olegar Fedoro
Synopsis:
Described as a comedy/drama/musical/romance, the story revolves around a Ukrainian immigrant named A.K. (Hütz) who finances his dreams of rock glory by moonlighting as a cross-dressing dominatrix and his two female flatmates: Holly (Weston), a ballet dancer who works as a stripper and pole-dancer at a local club and Juliette (McClure), a pharmacy assistant who dreams of going to Africa to help starving children.
I just found this online. I'm about to watch it, but if you know where I can download it please tell me.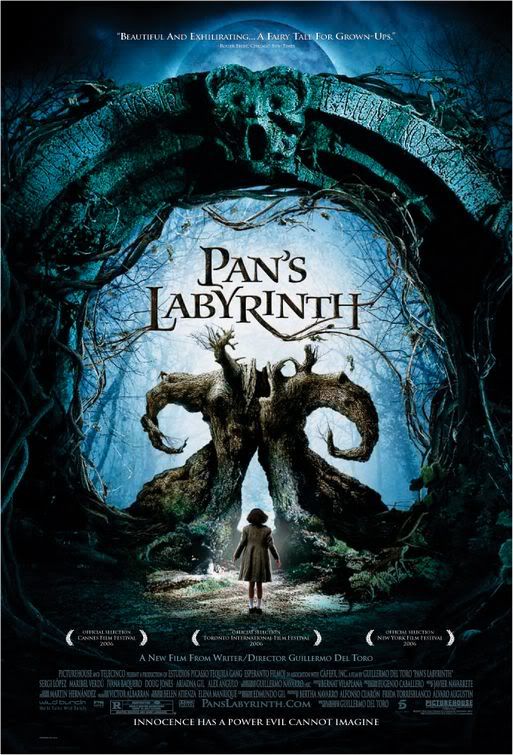 Pan's LabyrinthDirected by:
Guillermo del Toro
Written by:
Guillermo del Toro
Starring:
Ivana Baquero, Doug Jones, Sergi López, Maribel Verdú
Synopsis:
In 1944 fascist Spain, a girl, fascinated with fairy-tales, is sent along with her pregnant mother to live with her new stepfather, a ruthless captain of the Spanish army. During the night, she meets a fairy who takes her to an old faun in the center of the labyrinth. He tells her she's a princess, but must prove her royalty by surviving three gruesome tasks. If she fails, she will never prove herself to be the the true princess and will never see her real father, the king, again
I've seen this one before, but I want tot watch it again. I've found it online, but it's broken up into pieces and it's not the best quality.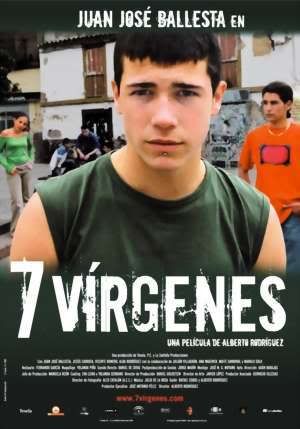 7 Virgins/7 VírgenesDirected by:
Alberto Rodríguez
Written by:
Rafael Cobos and Alberto Rodríguez
Starring:
Juan José Ballesta, Julian Villagran
Synopsis:
Summer in a working-class neighborhood in the south of Spain: Tano, a teenager currently serving a sentence in a juvenile reform center, received a 48-hour pass to attend his brother's wedding. Together with his best friend Richi, Tano plans to enjoy his pass to the limit, doing all the things he normally can't: drinking, stealing, having sex, and hanging out with his buddies. By the end of this 48 hours however, Tano witnesses the collapse of the things he has taken for granted in life: his neighborhood, his family, his friends and loved-ones. More than just two days of freedom, Tano's leave turns out to be a journey into maturity.
This is another one that I REALLY want to see.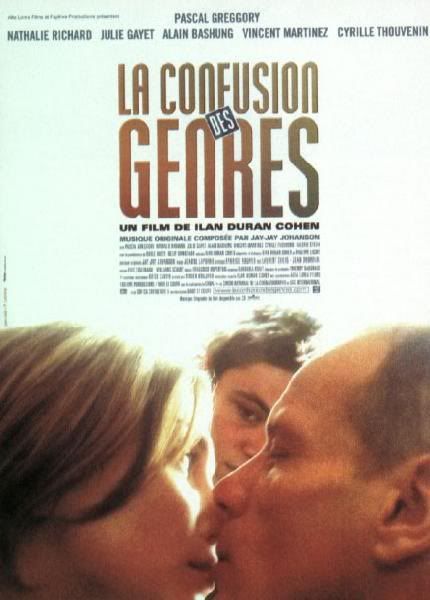 Confusion of Genders La confusion des genresDirected by:
Ilan Duran Cohen
Written by:
Ilan Duran Cohen and Philippe Lasry
Starring:
Pascal Greggory, Nathalie Richard, Julie Gayet, Alain Bashung, Vincent Martinez
Synopsis:
Confusion of Genders is an uninhibited romantic satire that tells the story of Alain (Pascal Greggory), who is having an office romance with a female colleague Laurence (Nathalie Richard). Unfortunately her younger brother Christophe (Cyrille Thouvenin) likes him as well. Alain however, doesn't know what he wants. Men, women, commitment and freedom are luring him in every direction but he is incapable of choosing. Or willing. When Alain encounters sexy, dangerous Marc (Vincent Martinez), the only way to get close to him is to become the messenger of Marc's passion (the sexy Babette, played by Julie Gayet), an entrancing woman whose charms Alain can not resist. Unfortunately, by this time, Christophe has moved into Alain's flat and Laurence is expecting his child and his hand in marriage. Will Alain find a compromise that will be acceptable to all?
I've been looking for this movie the longest. I'm dying to see it. I love Cyrille Thouvenin ♥
Hmmm. I think that's it.